BrightHouse: Collapse of rent-to-own giant confirmed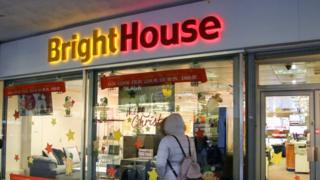 BrightHouse – the biggest rent-to-own operator in the UK – has collapsed, with administrators now attempting to salvage parts of the business.
Customers must continue to make the monthly payments required to keep their household goods, with administrators now acting as the collecting agent.
The company had been struggling after an influx of compensation claims for selling to people who could not repay.
Its shops were then shut owing to coronavirus restrictions on retailers.
Julie Palmer, from corporate recovery business Begbies Traynor, said: "Coronavirus was the final nail in the coffin for BrightHouse."
BrightHouse has 240 shops and 2,400 employees, who now face the loss of their jobs.
Its 200,000 rent-to-own customers make monthly payments for household appliances, in effect renting goods (and paying interest) until they have paid in full.
Many are on low incomes and find it difficult to access credit from mainstream lenders to pay for fridges, TVs, washing machines and other electrical items. Only about a third are in work.
Failing to make repayments, even now the company is in administration, would lead to extra charges and harm a credit score. Some may find that insurance policies sold alongside these rental agreements may no longer continue as the company has ceased trading.