Byron Burger to more than halve its outlets and cut 650 jobs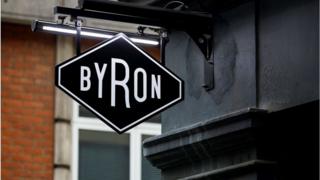 High Street restaurant chain Byron Burger looks set to close more than half its 51 outlets and cut 650 jobs.
Byron said last month it would appoint administrators to protect itself from creditors while it sought a rescue.
Business specialists KPMG, currently administering the chain, has not yet agreed a deal, but sources said it would be finalised "soon".
The chain is another victim of the economic impact on the hospitality sector of the coronavirus.
At the time of KPMG's appointment, the upmarket Burger chain had about 1,200 staff across the UK.
It was believed that KPMG was in talks with three potential buyers, which were were looking at buying the whole firm or parts of it.
News that a deal been done was first reported by Sky News, which said investment firm Calverton would be the new owner.
Byron has been struggling for a number of years. In 2018 it agreed a rescue plan and restructuring which was handled by KPMG.
As part of that deal, investment house Three Hills Capital Partners became the biggest shareholder.
Restaurant chains, which were already under pressure before the coronavirus crisis, have been hit hard by the pandemic.
The owner of Cafe Rouge, Casual Dining Group, and Bella Italia-owner Azzurri, are among several chains to fall into administration during lockdown.