Netflix sign-ups surge amid coronavirus lockdowns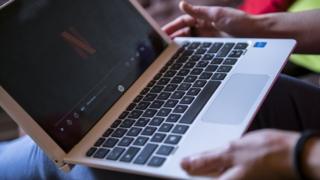 Netflix has seen subscriber numbers surge this year, as lockdowns around the world keep people at home where they want to be entertained.
The number of subscribers jumped by almost 16 million in the first three months of the year.
That is almost double the new sign-ups it saw in the final months of 2019.
However, the streaming service, which is behind some multi-million dollar productions, said shutdowns have halted "almost all" filming around the world.
And sharp declines in the value of many currencies has meant new subscribers beyond the US, where it is based, are not worth as much to the company as they would have been before the crisis.
Investors have had high hopes for the fortunes of Netflix during the lockdowns, sending the value of its shares up by more than 30% this year.
Demand for streaming has been so high that Netflix last month said it would reduce the quality of its videos to ease strain on internet service providers.