Retail sales continue to bounce back in June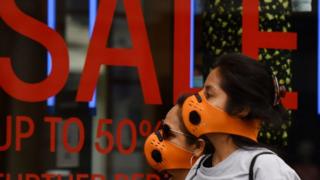 UK retail sales continued their bounce back in June, as the reopening of shops released pent-up demand.
The amount of goods sold last month increased by 13.9%, said the Office for National Statistics.
The rise followed record falls in April and a partial recovery in May as the coronavirus pandemic hit spending.
Sales were boosted by food stores, which reached new highs for the pandemic period.
Volume food sales were 5.3% higher while non-store retailing grew by 53.6% compared to February.
The rebound brings overall retail sales back to where they were pre-lockdown, but the ONS said there was a "mixed picture" in different store types.