Retail sales in May partly recover after DIY boost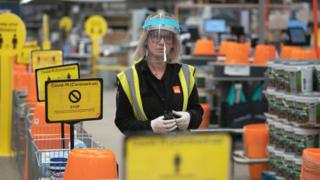 UK retail sales partly recovered in May, despite the continuation of coronavirus-related lockdown measures.
The amount of goods sold last month increased by 12%, in comparison with record falls seen in April, according to the Office for National Statistics..
Sales were boosted by a 42% rise at household goods stores, with DIY shops and garden centres reopening.
Non-essential retailers in England and Northern Ireland have also since been allowed to reopen.
Most shops in Scotland are to reopen from 29 June. Non-essential retailers in Wales will be told they can reopen from Monday, the first minister is expected to announce on Friday.
In May, sales were still down by 13.1% on February, before the scale of the impact from the coronavirus pandemic was clear. But non-food stores saw the biggest increase in sales, according to the Office for National Statistics (ONS).
In the three months to May, sales fell overall by 12.8%, in comparison with the previous three. Drops in sales were seen across all types of shops except for food and non-store retailing, which includes hardware and DIY stores.
Online sales rose to their highest proportion on record in May, accounting for 33.4% of total spend, compared with 30.8% in April, the ONS added.
Lynda Petherick, head of retail for Accenture UK and Ireland, said: "Given the wholesale shifts in consumer behaviour these last few months, it would be optimistic to assume shopping habits will return to normal in the immediate future.
"As the proportion of shoppers buying online continues to soar, the individual retailers who best recover in this new environment will be those who can quickly adapt to accelerating trends, such as the shift to ecommerce and the digitalisation of both 'in-store' and online experiences."
---
On Monday, stores across England selling non-essential goods opened their doors for the first time since the lockdown began.
Shoppers arrived early to centre:mk in Milton Keynes. Some were picking up goods they had been waiting months to buy, such as baby clothes and home furnishings. Others were there for the sales. These shoppers told us what they bought – and why.
---