Treasury considers 100% guarantee on small firm loans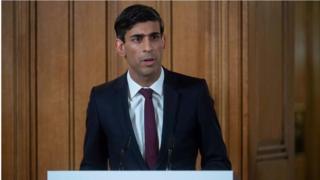 The Treasury has confirmed it is considering offering 100% guarantees on loans up to £25,000 for small firms.
Chancellor Rishi Sunak said in March that UK-based small and medium-sized business could apply for interest-free loans to help them with Covid-19 related difficulties.
However, companies say they are still finding it difficult to get credit.
Bank of England governor Andrew Bailey has questioned whether the system is "too complicated".
According to BBC business editor Simon Jack, eligibility for loans has not yet been decided – namely, how small does a business have to be to qualify for a loan for which the lender gets a 100% guarantee.
Loans to larger businesses will continue to get 80% backing.
Our business editor says an announcement is expected next week, if not earlier.
As many as one million of the UK's smallest businesses, many employing no more than a dozen workers, could benefit from the new rules, analysts say.